Nintendo Arcade Buttons & Assemblies
27mm Buttons and Colors
There are 9 official colors for these buttons:

TKGU-23-31 - Blue
TKGU-23-32 - Orange
MDST-12-17 - Crimson
MDST-12-21 - Black
MDST-12-24 - Light Blue
MDST-12-27 - Green
MDST-12-31 - Purple
MDST-12-34 - Yellow
MDSU-12-07 - Red

Which cabinets had what colors?

TKGU Donkey kong uprights
(2 Blue, 1 Orange)
TKGS Donkey kong cabaret
(2 Blue, 1 Orange)
DJRU Donkey kong Jr Uprights
(2 Blue, 1 Orange)
TPPU Popeye uprights
(2 Blue, 1 Orange)
TPPT Popeye tables
(2 Blue, 1 Orange)
DKCU Donkey Kong 3 uprights
(2 Blue, 1 Orange)
TMAU Mario Bros uprights
(2 Blue, 2 Orange)
CHPU Punch-Out!! uprights
(2 Orange)
CHSU Super Punch-Out!! uprights
(2 Orange)
CHVU Arm Wrestling uprights
(2 Orange)
MDGU VS Unisystem uprights
(1 Light Blue, 1 Green, 2 Black, 2 Red)
MDST VS Dualsystem table
(4 Black, 4 Crimson, 3 Light Blue,2 Green, 2 Yellow, 2 Purple)
MDSU VS Dualsystem uprights
(4 Black, 4 Right)
PCHU Play Choice 10 uprights
(2 Black, 2 Red)
RTPU R-Type Uprights
(1 Light Blue, 1 Green, 2 Black, 2 Red)
---
Nintendo 27mm Button Assemblies
This page is my attempt to make sense of which each button assembly looks like for each game there were used on. Some used larger spacers, some used roller microswitches, while others used straight lever microswitches.
Below is a typical Nintendo Pushbutton assembly.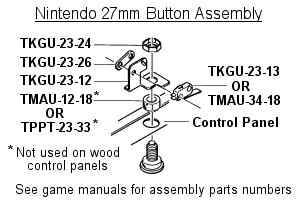 After initial installation and adjustment, there should be no need for maintenance, with the exception of cleaning the top of the button while cleaning the control panel.
If you have missing or worn pieces, we carry a complete line of replacements parts for these assemblies in the online store.
---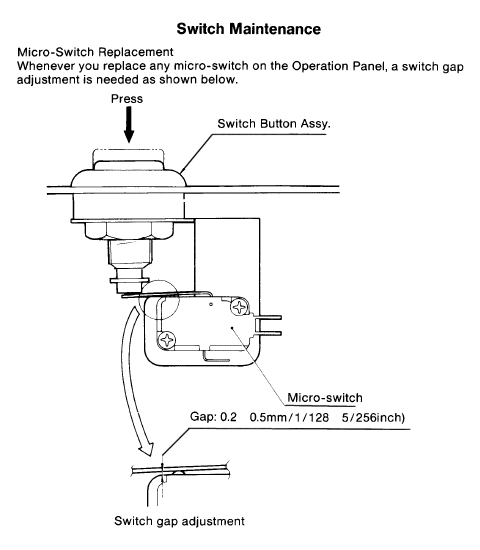 ---
TKGU button assembly
Introduced on Donkey Kong, this assembly was used for all the following cabinets with wood control panels:

TKGU Donkey Kong upright (all versions)
TKGS Donkey Kong cabaret
DJRU Donkey Kong Jr upright
TPPU Popeye upright
TNXU Sky Skipper uprights
---
TPPT button assembly
Introduced on Popeye Table, this assembly was used for the following cabinets with metal control panels:

TPPT Popeye Tables
MSDT VS Table 'Select' buttons

The difference is the addition of:

TPPT-23-33 a 15mm high collar
---
TMAU button assembly
Introduced on Mario Bros upright, this assembly was used for the following cabinets with metal control panels:

TMAU Mario Bros uprights
DKCU Donkey Kong 3 uprights
CHPU Punch-Out!! uprights
CHSU Super Punch-Out!! uprights
CHVU Arm Wrestling uprights
MDST VS Table 'action' buttons
MDSU VS Uprights
PCHU Play Choice 10 Uprights
RTPU R-Type Uprights

The difference is the addition of:

17: TMAU-34-18 Microswitch w/straight lever
18: TMAU-12-18 7mm high collar
---
Specialty Buttons
Punch-Out!! K.O. Button assembly
Only found on Punch-Out!! and Super Punch-Out!! uprights

CHPU Punch-Out!! uprights
CHSU Super Punch-Out!! uprights
---